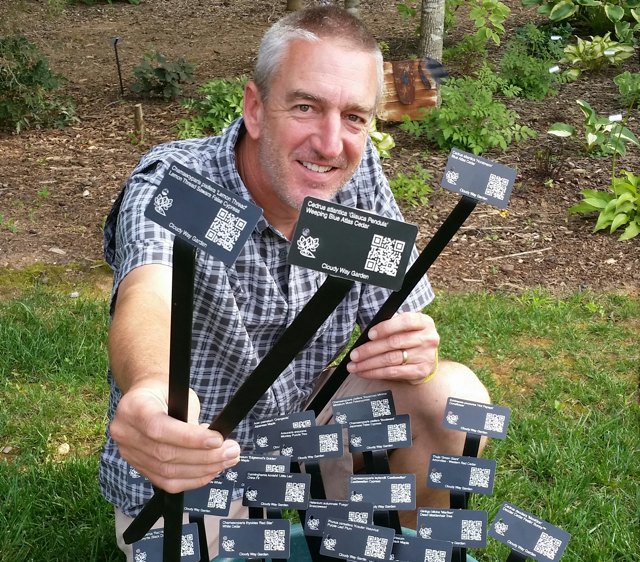 Plants Map Tags connect people to plants.
It's really that simple.
When Tracy and I moved to New York in 2006 I brought along a potted Dawn Redwood seedling that she got for free because she was a member at the Birmingham Botanical Gardens in Alabama.
At the time I didn't appreciate how magnificent these trees are but as the 12″ twig quickly outgrew the pot and within one season had grown to almost three feet tall. It grew and it grew vigorously! I was hooked.
Since either a camera or my iPhone was always in my pocket and the tree was planted just off the corner of our patio I would photograph it regularly. I would post the pictures randomly to either Flickr, Picasa, Twitter or Facebook. I'm guessing that in just those few years, this particular Dawn Redwood probably became the most photographed of its genus and species in the world.
Today, I don't have any photos easily accessible so that I can include a picture of that Dawn Redwood in this blog post.
I could probably dig back through my old social media accounts to find a shot but it would be mixed in with literally thousands of posts across multiple social media platforms.
THAT IS THE PROBLEM! I had documented this tree with my camera for several years as it grew from a tiny seedling to a tree that was over 15 feet tall but now I can't find the photos I shared!
I've since moved to Virginia. I'm a certified 'cone head' now and in my front yard I've planted roughly 150 different types of evergreens and conifers and other trees, plants and shrubs since 2012.
Since I'm regularly photographing these plants as they grow and enjoying the changes to their appearance throughout the year, I wanted to be able to keep my photos of these plants organized. The collection is growing too so I also want to be able to remember all of the names of the plants.
I needed a mobile-friendly database and a way to label my plants.
I searched the Internet for the best way to keep a mobile phone friendly plant journal or garden journal and just didn't find any good solutions at all.
I also searched the web for the best way to make plant identification tags and labels. The resulting web pages showed one-off custom tags that were either way too expensive or the tags and labels just didn't last very long.
In January 2014 I started to build Plants Map to solve my own problem.
The Solution
My plants are now all listed on PlantsMap.com.
I can keep photos of each plant with the individual plant listings. I can use my phone to record my notes about a plant directly on the page or that particular plant.
I didn't have to download and app either because Plants Map works in my browser which means it works on my computer and tablet!
Every plant on Plants Map has a unique QR code assigned to it that can be printed on an inexpensive but durable identification tag or sign.
I simply use a free QR code reader on my mobile phone to scan a code on a tag and my phone's browser opens to the detail page for that specific plant. There I can add my journal notes and photos directly to the listing.
I can then share those images and information on social media.
Nothing gets lost anymore! I can add a photo to a plant now in about 30 seconds!
Here is more information on Plants Map Tags.
Plants Map Is Free
Anyone can use PlantsMap.com for free to keep their list of plants and photos organized.
Plants Map identification tags and signs are optional and can be ordered using a button at the bottom of each plant page. The lines of text on the tags can be edited. The tags in my garden show the QR code, the botanical name of the plant, the common name and the name of my garden – Cloudy Way Garden.
Here is the page we built with more information and prices for the different kinds of tags and signs and stakes.
Both sizes can be attached to a stake and placed in the dirt near the plant. Both sizes also have a hole in the metal so that a wire or screw can be used to attach the identification plate to a branch or directly into larger mature trees.
Tell Your Plant's Story
I can use the tags to keep my records and pictures organized and visitors to my garden can scan the QR codes to read the story about the plant and see the archive of pictures of that particular plant that I've added over time.
I could not be more thrilled with the progress we've made at Plants Map this year and the Plants Map Tags and Signs are awesome. The tags have exceeded my expectations for usability, quality, function, design and price. I hope that you will use them for your gardens and share the story of your plants and gardens on PlantsMap.com.